⚠️SPOILER ALERT⚠️
---
This page is very likely to reveal significant plot points and future story developments so read at your own risk!
Vlad Basarab Dracula is one of the two main love interests in Dracula: A Love Story in terms of screen time and amount of interactions with Laia/Lale, the main character you play as.
Please note: this book is ongoing so this page is constantly updated as we learn more about this character.
About Vlad
Vlad appears as a character in two different timelines: as an adult in present-day Romania and the United States, and as a young man at the time of the 15th-century Ottoman Empire. During the course of the story we learn that the two are the same, as Vlad is immortal.
Present-day Laia, the main character you play as in this book, meets Vlad in Bucharest, Romania, where she had travelled first on holiday with her sister and then on behalf of the art gallery she works for to acquire some 15th-century paintings. Vlad, presenting as a wealthy, mysterious businessman with an interest in art, buys such paintings and hires her to restore them. He invites her to stay with him in his castle while she does so.
Lale - Laia's past life incarnation - meets Vlad at the court of the Osmanian sultans, where he is kept as a hostage. A prince of Valahia, a medieval princedom that occupied the territory of modern Romania, Vlad was captured by the Ottomans when he was 16, and was kept at court for four years, together with his brother Radu. He enlisted in the Ottoman army where he bonds with Aslan, an orphan living at the Sultan's court after his own homeland was also conquered.
Pursuing a relationship with Vlad will affect romantic relationships with other characters. If you decide to romance him, certain scenes/options with Leo/Aslan and Sandra will be affected, or not be available. If you decide to romance both Vlad and Leo/Aslan, in Season 2, Episode 6 you will be asked to take a final decision between the two.
Please note: Your romantic choices in the present affect the past and vice versa. You cannot romance two different people in the two different timelines.
Biography
Vlad Basarab Dracula is a young prince and the son of the ruler of Valahia, a medieval princedom that occupied the territory of modern Romania. Once the Ottoman Empire conquered his homeland, he and his younger brother Radu were brought at the Osmanian court, where they remained for four years. By tradition, as a son of a vassal of the Ottoman Empire, they were required to spend several years at the Osmanian court. Although some saw this act from Sultan Murad as generosity - allowing them a chance to study alongside young Ottomans and train in the army - in reality their freedom was limited and they were hostages.
Young Vlad has conflicting views about his stay at the Osmanian court. He considers Laia and Aslan as family and doesn't blame them for the faults of the Sultan, however he feels like a prisoner and is very much looking forward to the day in which he will be able to return to his homeland. The fact that his much younger brother Radu hardly remembers it and feels more at home with the Ottomans is a cause of grief for Vlad, although he understand the reasons why this came to be.
As this book is still ongoing, there are still parts of Vlad's past that haven't been revealed yet, but in Season 1, Episode 12, during a diamond scene with Noe, we discover that evil spirits appeared in the 15th century, the lowest caste of dark society, and they kept fighting and playing tricks on each other and on humans. As a result, humans started mass persecutions of witches, with also noble dark creatures being affected. A human king in the Carpathian mountains - which is very much implied is Vlad himself - was tasked with solving the problem. He gathered all the lower dark spirits, organized them and gave them law and rules. Then he redirected their bloodlust towards a foreign army that was threatening his country at the time, defeating the enemy and calming the dark forces at the same time. As a result, he became well respected both amongst humans and dark powers. When he died, he was given a choice: becoming a vagabond among humans for ever, living but hiding his identity, or leave for the world of dark powers, where he would be respected and celebrated. But he chose neither path and remained as a 'non-being' in between worlds. His body was put in a crypt in the forest where he remained for centuries. Sometimes he would get out to drink blood and slowly he forgot his original identity, turning into a savage monster - a vampire. But when Laia arrived in the country, and Vlad, in his vampire form, accidentally saw her picture on Millie's phone, he remembered his past and rushed to Noe, begging him for help returning to the human world. Noe, a Master of Illusions, helped him by giving him human semblances again, believing he would soon grow bored of the girl and come back.
We also learn that Sandra, who is gifted with supernatural powers of divination and beyond, was tasked with being at Vlad's service once he woke up.
In Season 2, Episode 8, during a phone call between MC, Sandra and Ilinca, it is revealed that MC's fate is connected to Leo and Vlad by the Threads of Fate. This bound was not created by a magic ritual but it was born on its own due to the deep devotion between the three of them.
In Season 2, Episode 10, Noe speaks of his relationship with Vlad. When in the Dark World, Vlad was kinder and more just than most towards the lowest ranked dark spirits, the imps, and this impressed Noe and they became close friends. A law against the killing of the imps was passed thanks to Vlad's influence. In the same episode, Noe also reveals that the details of Vlad's curse are unknown and it's not known how can MC help him, so Noe thinks that they might have to wait for the circumstances needed for the curse to be lifted to happen on their own. To make sure they will know when/if this happen, Noe has built a magical sphere: when the necessary events will happen, the energies will change and the rays inside the sphere will change from blue and orange to dark red.
The story is ongoing.
Personality
The Vlad we meet at the Osmanian court is a studious, reserved and fiercely loyal young man. At first, he refused to form any kind of connection with the Ottomans nobles, but when he started getting close to Lale and Aslan, the three of them became bonded together by a strong friendship. Depending on your choices, Vlad and Laia can start a romantic relationship or they can remain as close friends.
Present day Vlad is constantly struggling between balancing his desires and the reality of his existence on the border between worlds. He is still deeply connected/in love with Laia, a sentiment he carries since she was Lale 600 years prior, but the two cannot touch because Laia's inner light is such a polar opposite to Vlad's deep darkness that if he tries to touch her, his body gets covered in blisters and he starts bleeding. He worries about hurting Laia, yet he is unable to stay too far away from her as his desire to protect her from himself and his desire to be near her are constantly at war inside him.
Relationships
Present day:
Osmanian court:
Trivia
Vlad loves animals, especially dogs.
He used to study acting and allegedly met Noe while studying theatre in school. This will be proven to be a lie later on.
He speaks more than one language including Turkish.
He hates lies and thieving more than anything else.
He loves swimming.
Character creation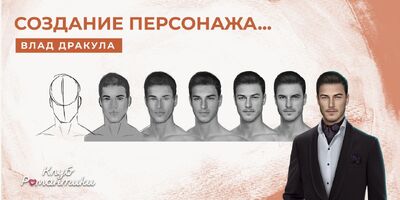 The Romance Club dev team shared the process of the creation of Vlad on their official VK account. Illustrator unknown. [1]
Interactions with Vlad
All interactions that improve your relationship with Vlad have been clearly marked on the walkthrough, but here is a summary. Note: some options will only be available to you if you have chosen previous romantic scenes with Vlad or if your relationship with him is good enough.

Season 1, Episode 2:

Will take her! (26💎) [Vlad liked that you stood up for the dog!]
Ask Vlad to go with you. [Vlad sympathises with you.] [❤️Hug scene]

Season 1, Episode 3:

With a smile. [The stranger liked that you reacted with dignity!]
Let's walk in the forest. [Your relationship with Vlad improved!] [❤️Romantic scene] [Unlocks CG]
Sit next to Vlad [Your relationship with Vlad improved!]
To the lakes with Vlad [Your relationship with Vlad improved!]
I am not going. [You showed your trust to Vlad!]

Season 1, Episode 4:

Thank Vlad [Your relationship with Vlad improved!]
Alright, I don't mind [Vlad appreciates the fact you accepted the title!]
Choose "Truth." and "Yes, it happened." [Vlad appreciated truth, he respects you more now!]
Ask Vlad. [Your relationship with Vlad improved!]
Yes, very much... [Your relationship with Vlad has improved!] [Note: You will see this scene only if MC doesn't have a good relationship with Leo but has a good relationship with Vlad.]
Strange and exciting. [Your relationship with Vlad improved!] - unlocks 💎Choice: Put your hair down. Okay (9💎)[❤️Romantic scene]
Vlad will go with me. [Your relationship with Vlad improved!] - or - Alright, let's go together. [Both friends are glad that they can come with you!]

Season 1, Episode 5:

Go to the museum with Vlad. [Your relationship with Vlad has improved!]

Season 1, Episode 6:

Alright... (23💎) [Your relationship with Vlad has improved!] [❤️Kiss scene] [Note: You will see this scene only if you have a good relationship with Vlad]
So you knew Vlad as a kid? [Your relationship with Vlad has improved!]
Let me see Vlad. (10💎) [Your relationship with Vlad has improved!] - or - Let me see Vlad and Aslan. (23💎) [Your relationship with Aslan has improved!] [Your relationship with Vlad has improved!]

Season 1, Episode 7:

To stay with him for a while. (20💎) [Your relationship with Vlad has improved!] [❤️Romantic scene] [Note: You will see this scene only if you have a good relationship with Vlad]
I sympathize with Vlad and want to help him - and - I'll stay with you. [You showed your sympathy and your trust to Vlad!]
But I don't need any tea. [Your relationship with Vlad has improved!]
Show me! [Your relationship with Vlad has improved! [❤️Romantic scene] [CG image unlocked]

Season 1, Episode 8:

King of Swords [Your relationship with Vlad has improved!]

Season 1, Episode 9:

To be closer to Vlad. [Your relationship with Vlad has improved!]
I'll stay (31💎) [Your relationship with Vlad has improved!] [❤️Romantic scene] [Note: You will see this scene only if you have a good relationship with Vlad]

Season 1, Episode 10:

I'll hear him out. [Your relationship with Vlad has improved!]
Vlad's hand caught her (9💎) [Your relationship with Vlad has improved!]
Stay here with me (23💎) [Your relationship with Aslan has improved!] [Your relationship with Vlad has improved!] [CG image unlocked]
Create instead of destroying. To honor your loved ones. [You alleviated Vlad's sorrow!] [+1 💓 Soul Light]

Season 1, Episode 11:
Season 1, Episode 12

I ran to Vlad. [Your relationship with Vlad has improved!]
Vlad turned out to be a monster! [You revealed that Vlad was the dearest to you!]

Season 2, Episode 1

I won't reveal Vlad's secret. [Your relationship with Vlad has improved!]
And I will (27💎) [Your relationship with Vlad has improved!] [❤️Kiss scene]

Season 2, Episode 2

Please do. (34💎) [Your relationship with Vlad has improved!][❤️Hug scene] [CG unlocked]

Season 2, Episode 3

Note: If you are romancing both Vlad and Leo, you get the banner: [You're developing a relationship with them both, and it hurts Vlad and Leo]
I'll trust Vlad. [Your relationship with Vlad has improved!]
Talk about what matters (30💎) [Note: You will see this scene only if you have a good relationship with Vlad]
But I don't want to keep it! [You are determined to be close to Vlad!] - or - And I'll keep it [CG unlocked]

Season 2, Episode 4

Anywhere with you! (31💎) [Your relationship with both friends has improved!][CG unlocked ]
Coming with you. [Your relationship with Vlad has improved!] [❤️Kiss scene]

Season 2, Episode 5

Going to Vlad! (28💎)[Your relationship with Vlad has improved!] [CG unlocked] [Note: You will see this scene only if you have a good relationship with Vlad]

Season 2, Episode 6

I'm going! (33💎)[❤️Romantic scene] [Note: You will see this scene only if you have a good relationship with Vlad]

Season 2, Episode 7

Walk for a bit? (26💎) [❤️Kiss scene] [Vlad and Lale's relationship became even closer!] [Note: You will see this scene only if you have a good relationship with Vlad]

Season 2, Episode 9

A letter (22💎) [Your relationship with Vlad has improved!] [A series of CG backgrounds are unlocked: TBC] [❤️Vlad in his studio writing a love letter to MC]

Season 2, Episode 10

Of course I agree. [Your relationship with Vlad has improved!] - unlocks 💎Choice: Looking at Vlad (32💎) [Your relationship with Vlad has improved!] [❤️Romantic scene with Vlad, they hug through a blanket.]

Gallery
Reference List